梁秋群博士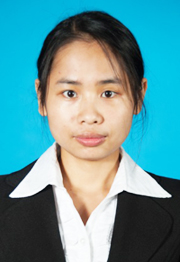 1、基本情况
梁秋群,女,博士,副教授,主要从事微纳光子学方面的研究。
联系地址:广西桂林市建干路12号。邮编:541004
电子邮件地址:liangqq@glut.edu.cn
2、个人主要经历
2015年8月至今,桂林理工大学,理学院,从事教学与科研工作

2010年9月—2015年7 月,中国科学院长春光学精密机械与物理研究所,光学,博士

2013年9月—2014年12月,德国马克斯普朗克研究所(Max Planck Institute),光学,联合培养

2006年9月—2010年7 月,吉林师范大学,应用物理,学士
3、主要研究成果
Qiuqun Liang, Qiu Yin, Lei Chen, Zhaolong Wang*, Xuandong Chen, Perfect spectrally selective solar absorber with dielectric filled fishnet tungsten grating for solar energy harvesting, Solar Energy Materials & Solar Cells, 2020, 215,110664.

Xuandong Chen, Aiping Yu, Guangyan Liu, Ping Chen, Qiuqun Liang*, A multi-phase mesoscopic simulation model for the diffusion of chloride in concrete under freeze–thaw cycles, Construction and Building Materials, 2020, 265, 10223.

Qiuqun Liang, Huigao Duan, Xupeng Zhu, Xuandong Chen, Xiongping Xia*, Solar thermal absorber based on dielectric filled two-dimensional nickel grating. Optical Materials Express,2019, 9(8), 3193–3203.

Qiuqun Liang*, Yongqi Fu, Xiongping Xia, Liu Wang, Ruimei, Gao, Titanium nitride nano-disk arrays-based metasurface as a perfect absorber in the visible range, Modern Physics Letters B, 2018, 32 (1), 1750365.

Qiuqun Liang,Yuren Wen, XiaoKe Mu, Thomas Reindl, Weixing Yu, Nahid Talebi, and Peter A. vanAken, Investigating hybridization schemes of coupled split-ring resonators byelectron impacts, Optics Express, 2015, 23(16): 20721-20731.

Qiuqun Liang,WeixingYu,Wencai Zhao, TaishengWang, Jingli Zhao, Hongsheng Zhang, and Shaohua Tao, Numerical study of themeta-nanopyramid array as efficient solar energy absorber, Optical MaterialsExpress, 2013, 3(8):1187-1196.

Qiuqun Liang, Taisheng Wang,Zhenwu Lu, Qiang Sun, Yongqi Fu, and Weixing Yu, Metamaterial-Based TwoDimensional Plasmonic Subwavelength Structures Offer the Broadest WavebandLight Harvesting, Advanced Optical Materials, 2013, 1(1): 43-49.

Qiuqun Liang, Weixing Yu,Taisheng Wang, Hua Liu, Wenbin Xu, Renguan Piao, and Yongqi Fu. Multiple-beamsurface plasmon holographic nanolithography, Plasmonics, 2012,8(2): 561-569.

Qiuqun Liang, Nahid TalebiSarvari, Weixing Yu, Peter A. van Aken, Electron impact investigation of hybridizationscheme in coupled split-ring resonators, 8th International Congress on Advanced Electromagnetic Materials in Microwaves and Optics – Metamaterials 2014, Copenhagen,2014. 8.25-8.30.

Qiuqun Liang, Dongliang Hao,Taisheng Wang, Zhenwu Lu, Qiang Sun, and Weixing Yu. Broadband infraredabsorber based on plasmonic hybrid resonator.ISPDI 2013-FifthInternational Symposium on Photoelectronic Detection andImaging, Beijing, 2013.6.25-6.27.